Hi,
Supply chains are still not back to normal, so it might be wise to start ordering your Christmas presents now. In the meantime, here are four big property and finance stories:
– Property buyer breakdown
– Regional scheme goes live
– Home loan landscape changing
– Buyers value energy efficiency
Read more below.
But first…. our monthly survey results 😉
How much can you save by
checking and renegotiating your variable interest rate with your lender?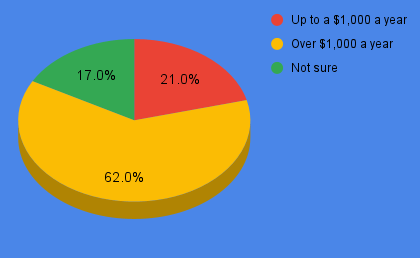 This result is interesting for a number of reasons:
1. Over $1,000 a year saving is a lot of lattes!
2. If there is money to be saved, then it is important that borrowers who don't want to pay more than they should to their lender, get cracking! Particularly if they don't use a broker 😉
3. If they use a broker, it is important for borrowers to make sure their broker is doing this for them – at least once a year. (We have now started this process for our clients so watch your inbox for an email from us if you have a Variable Rate loan we have organised for you over 12 months ago 👍)
4. In the current changing interest rate climate, lenders are making hay – at their borrowers' expense – as no one can keep up with the constant and rapid interest rate increases.
5. The ACCC's 2020 report on home loan interest rates suggested that borrowers were paying FAR too much interest compared to the best rates in the market.  And, to make matters worse, the longer the borrower had been with a lender, the greater the difference between this 'best rate' and the rate they were being charged by their lender.  Check out the table below.
So, if you would like us to do our FREE rate review for you (whether we organised your loan or not), just reach out and I will get our team cracking to see what we can save you!  Just click the link below to get this moving!
New analysis has found that different buyer groups respond quite differently during downturns – with the current slowdown fitting the historical pattern.
"The main difference between the buyer types over historic downswings is that first home buyer demand for finance has traditionally been more resilient through downswings, with subtler declines in demand, and during some periods, increases," according to CoreLogic's head of residential research, Eliza Owen.
"Subsequent home buyers and investors have seen a more distinct decline in demand for housing finance initially through downswing."
Ms. Owen's research findings came after studying downturns in 2004, 2008-09, 2010-12, 2015-16 and 2017-19.
Since April (when national home values peaked) and August (the most recent month for which the Australian Bureau of Statistics has data) the value of new home loans fell:
– 9.9% for first home buyers (owner-occupiers)
– 10.8% for subsequent home buyers (owner-occupiers)
– 20.1% for investors
I can help you enter the market, whether you're a first home buyer, an upgrader or an investor.
The federal government's first home buyer support package for regional Australians has been launched, as of October 1.
Here are the key details of the Regional First Home Buyer Guarantee:
– The scheme is limited to owner-occupiers
– Eligible buyers can enter the market with just a 5% deposit
– You don't need to pay lender's mortgage insurance
– You must buy in a regional area
– You must have been living there, or in an adjacent area, for at least 12 months
– Income limits apply ($125k for singles, $200k for couples)
– Price caps apply (which vary from area to area)
The government has allocated 10,000 places per financial year to this scheme.
"Australians living in regional areas have faced some of the largest drops in housing affordability, making it increasingly hard for locals to save a sufficient deposit," according to Housing Minister Julie Collins.
"The Regional First Home Buyer Guarantee will help aspiring first home buyers living in regional Australia realise home ownership sooner by overcoming the deposit hurdle."
Over the past six months, the average person's borrowing capacity has fallen by about 25%.
That's because the maximum amount a typical person can borrow falls by about 5% every time the Reserve Bank increases the cash rate by 0.50 percentage points, according to the Reserve Bank's head of domestic markets, Jonathan Kearns.
Since May, the cash rate has jumped by 2.50 percentage points, which is why borrowing capacities have fallen by about 25%.
As a result, it's become harder to qualify for larger loans; and harder for some borrowers to qualify for any loans at all.
If you want to buy your dream home, it's a good idea to consult an expert mortgage broker. Here's why:
– Your borrowing capacity varies from lender to lender
– Brokers work with a large, diverse panel of lenders
– So they can recommend lenders that want to do business with borrowers like you
– They can present your application in a way that appeals to the lender's individual criteria
Unfortunately, if you try to manage the application process yourself, you might choose an unsuitable lender or present your application incorrectly – and potentially get rejected.
Property buyers are placing increasing importance on energy efficiency, according to research from realestate.com.au.
A survey found 56% of consumers believe energy efficiency is extremely important, compared to 48% for the same survey last year.
The top five reasons people thought energy efficiency was important was so they could:
– Reduce their energy bills 76%
– Do good for the environment 57%
– Reduce their carbon footprint 53%
– Reduce their chance of bill shock 50%
– Live in a better-designed property 44%
And the top five sustainable property features that interested them were:
– Solar power 71%
– Efficient lighting 63%
– Insulation 60%
– Air flow 59%
– The position of the home relative to the sun 58%
Meanwhile, the top five keywords that buyers entered when searching for energy-efficient features on realestate.com.au were:
– Solar power 93.3%
– Energy efficiency 3.6%
– Double-glazed windows 1.2%
– Hydronic heating 0.6%
– Star rating 0.5%